Hints From Hertha: Dripping Candles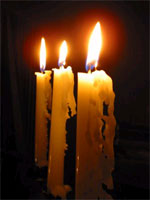 Chances are you've had a taper or fifty drip and make a nasty mess on an altar cloth, a table, or the carpet. Maybe even on the cat.
Putting the tapers in the freezer for a few hours before you use them helps to cut down on the amount of drippings and makes for a cleaner burn.
If you divine the outcome of a working by reading the wax drippings...ignore everything I just said!